Penn Yan Boat Company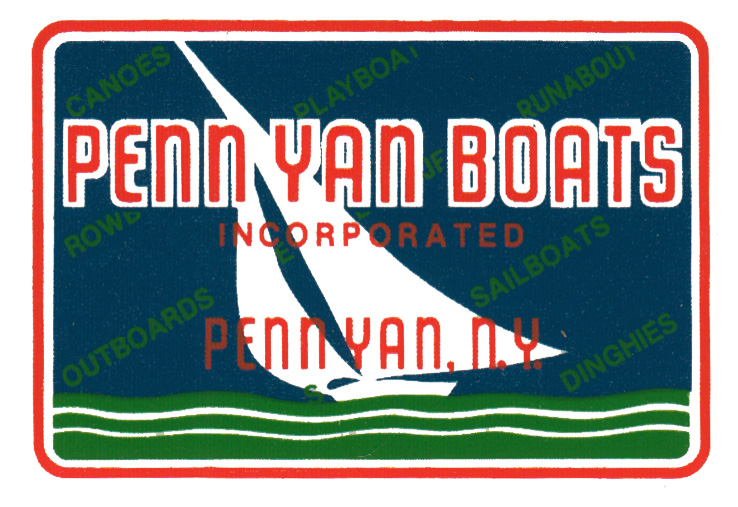 Company History:
The Penn Yan Boat Company of Penn Yan, New York, was founded in the mid-1920s. Perhaps more well known for the outboard boats they built, the company built a variety of canvas covered canoes, and a fair number survive today. The company ceased building wood boats and canoes in the early 1960s, switching instead to all fiberglass production. No records are known to survive.

The following is a link to a YouTube video showing initial work on a 1946 Penn Yan Rainbow. Video shows typical Penn Yan deck, decal, placement of serial number, war-era seat treatment, and headache of fiberglass removal: http://www.youtube.com/watch?v=pKo7fpaPecI
Serial Numbering:
Serial Number Format: Two or three letters followed by 3 or 5 digits is typical, there are variations. In some cases the first two letters indicate the model, in other cases the first letter indicates model and the second indicates length. The third letter, if present, indicates trim (S=Spruce, M=Mahogany). See the Penn Yan identification table below for letter codes.

Dating: Sometimes (apparently only in the second half of any given decade) the first two digits of the serial number are the year built, and the remainder the presumed order of construction. In the case of Owasco, Rainbow Guide and Kingfisher model canoes, three letters in the serial number indicates 1947 or earlier, 2 letters is 1948-1960. An exception is that some pre-1933 16' Rainbows and 16' Owascos may be marked RC and OC, respectively.
Models Offered:
Model
Serial Number Code
Dimensions
Auto Canoe

CA

,

CAS

10 x 34½ x 13
Hunter

CL

15 x 35 x 12½
Fisherman

CM

12½ x 34½ x 12½
Hunter

CM

12½ x 34½ x 12½
Carry Canoe

FX

15 x 33 x 11½
Camper

GC

17 x 35 x 12
Guide

GE

,

GES

,

GEM

18 x 36 x 13½
Scout

GN

16 x 34½ x 12
Kingfisher

MC

,

MCS

,

MCM

14 x 37 x 13
Owasco

ON

,

ONS

,

ONM

16 x 34 x 12½
Owasco

OC

,

OCS

,

OCM

17 x 35 x 13
Owasco

OE

,

OES

,

OEM

18 x 36 x 13½
Rainbow

RN

,

RNS

,

RNM

16 x 34 x 12½
Rainbow

RC

,

RCS

,

RCM

17 x 35 x 13
Rainbow

RE

,

RES

,

REM

18 x 36 x 13½