Brown Boat Company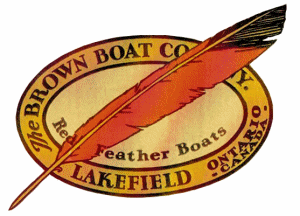 Company History:
James G. Brown (1851-1920) was a former housebuilder/developer who constructed many homes in Lakefield, Ontario. J.G. Brown also worked on and off for his mentor, Thomas Gordon. He is said to have had an argument with one of the Stricklands (the Strickland family had early on invested in T. Gordon Canoe Co.) and quit his job with T. Gordon Canoe Co. In the mid 1870s he purchased a property on Water Street and made a first attempt at producing canoes. In 1887 he made a second attempt, and this begins nearly half a century of building canoes, skiffs and small outboard boats. Very little is known of his early production. His canoes and skiffs became as famous as Gordon's and Strickland's.

The company produced board and raised batten canoes, flush batten canoes, metallic batten canoes, canvas covered canoes, and cedarstrip canoes, as well as skiffs and outboard motor boats. The company successfully operated with the conviction that there are enough people who desire and appreciate superlative workmanship to provide a market for its products. Early on, he also rented out his canoes and row-boats at his waterside property on Water Street.
1887 The official start of the Brown Boat Company.
1918 A fire destroyed the factory, 90 canoes and 1 motorboat.
1920

J.G.

Brown dies. He was 69 years old.
1920 His son Fred Brown (1890-1938) takes over the company.
1924 Another fire destroys the factory.
1938 Fred Brown was fatally injured and dies.
The company was purchased by George Cook who started "Sailcraft", building cedarstrip sailboats. This company was partly closed during the war. They built sailboats up to 1956 and later also tried their hand at building fiberglass boats.
(by Dick Persson)